Our Quarantine Cocktail series continues with an architectural twist with our recent deep clean find. A few days ago we chanced on these familiar miniature blue and white dutch houses, that some of you may have seen around your homes. Usually on display in a glass cabinet, I took them out to get dusted and felt the sloshing of liquid in the hollow house. I opened the chimney top, poured the liquid down the drain and gave it a quick rinse before putting it back. Wait a minute.. What did I just do?! A few minutes of scrolling madly through my phone with the search terms 'blue' 'house' 'klm' (because that's what it said on the back) to figure out why on earth there was a mystery liquid in these mystery houses. And now I'm kicking myself.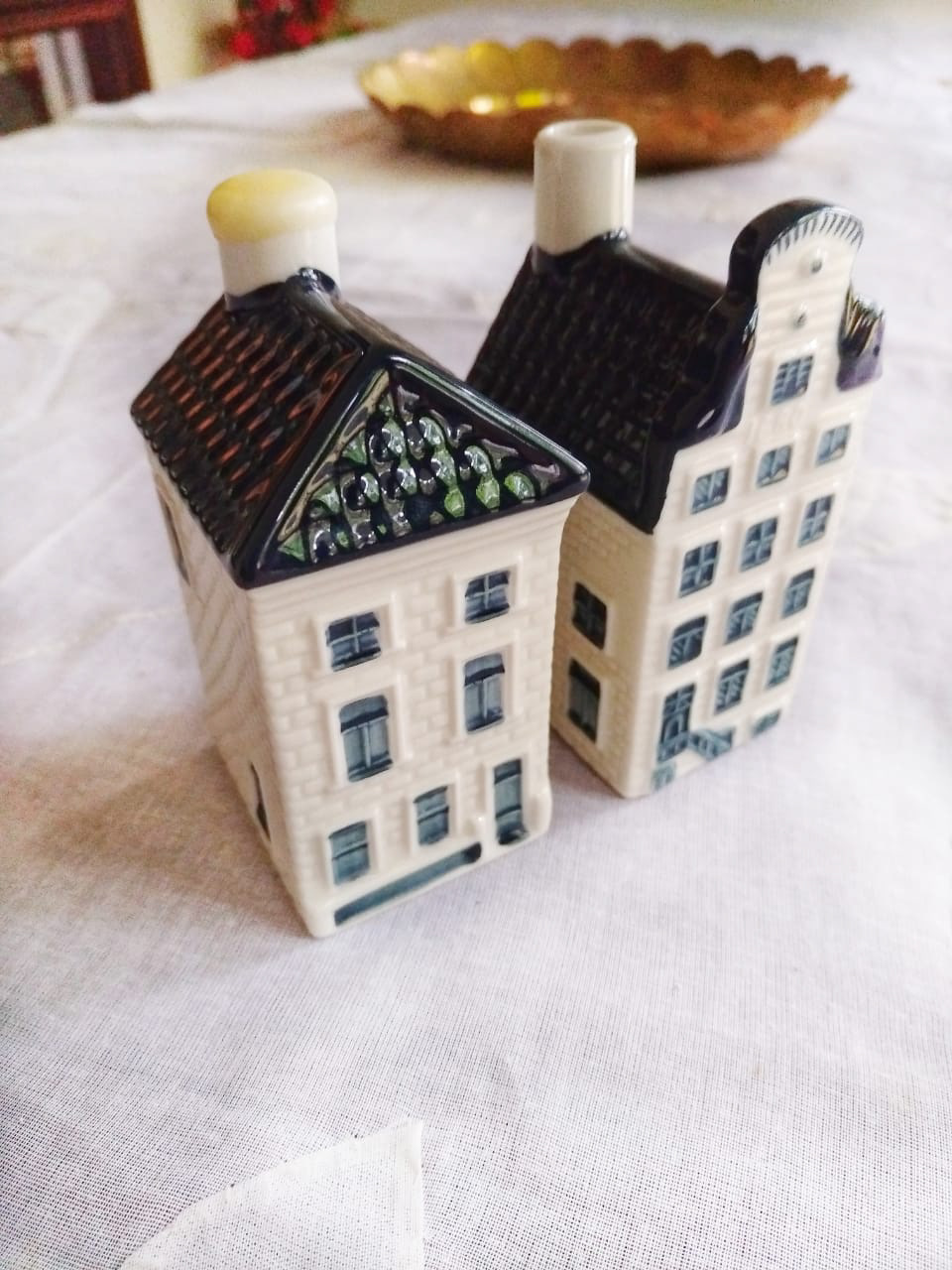 Back in the day, airlines were regulated by the Civil Aeronautics Board who had a say on fares to routes and schedules. Advertising or incentivising customers were a big no-no to ensure an equal playing field but bad boy KLM, came up with a loophole campaign to give their business class customers a little ceramic Dutch house filled with gin from the famous Bols distillery. When confronted about breaking the rules, the airline replied "Is there a law that tells us drinks have to be served in a glass?" These houses now have a cult following and rightly so. There are about a 100 different houses all numbered and based on real buildings in Holland. 
My two houses (I swear there were more but I can't seem to find them) are House No: 14 & 26. House 14 aka. Daer de twee Zeegooden op de gevel liggen (Where the two Sea gods lie on the façade) was built in 1665, still exists today and it is located on Herengracht 510. It has a quirky little store on the ground floor that sells American hotel/private club dinner sets..weirdly niche, we know. It's located in Amsterdam's Golden Bend, a posh AF area filled with city-palaces with classicist facades, stuccoed ceilings and expansive gardens (not that you can tell from the outside) Here's a
link
to see more Golden Bend #BuildingsIWantToBang and their interiors.​​​​​​​
House 26 is the "love nest" of Mata Hari (relationship status - complicated). Mata was an exotic dancer who was shot dead by a firing squad for espionage by the French military during the World War. Born Magarette, she lived briefly in Dutch East Indies aka Indonesia and did what some would now call cultural appropriation. This bad bae divorced her husband, went to Paris and assumed the identity of an exotic hindu dancer, fell in love with a Russian pilot who was fighting on behalf of France, but was injured in Germany. I mean if that was complicated enough, Mata was asked by the Germans to sleep with her pal the Crown Prince of Russia (yup, you read that right!) to extract secrets for the German Army so she could see her beloved Pilot. So anyway, the miniature house is filled with Gin and if you need a drink after this insane story, we've got a recipe down here for you. 
The Flying Dutch Apple

Inspired by Dutch apple pie, we poured Bol's gin from the KLM house in a cocktail shaker filled with ice, put a dash of Monin green apple syrup. A couple of strong hard shakes later, pour through a strainer,  add a pinch of cinnamon and top it with a ginger ale for a little bit of fizz.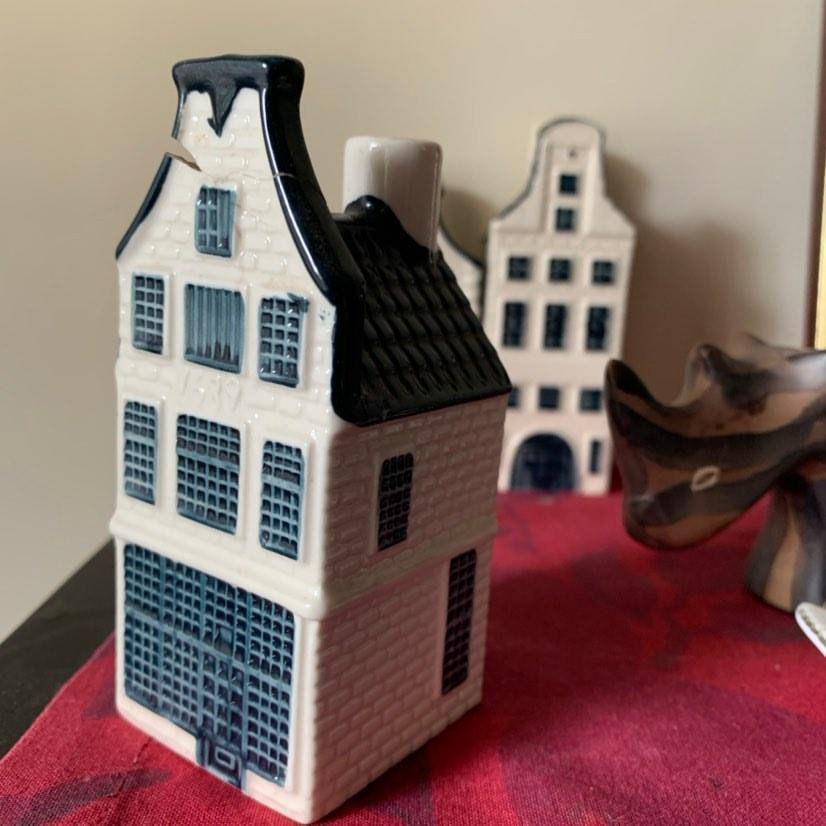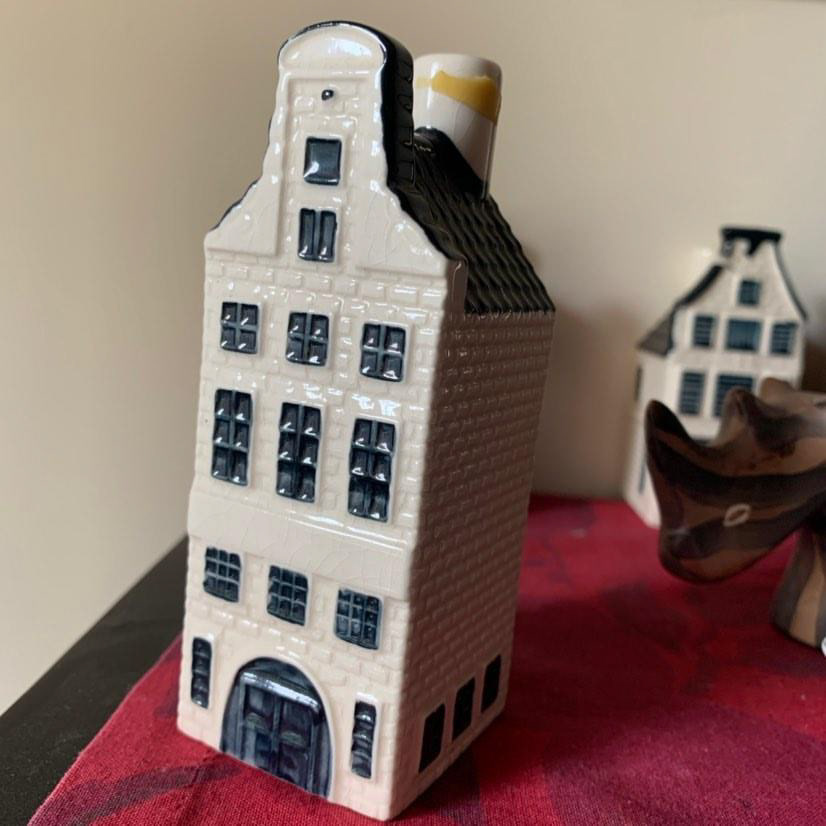 This story was fresh in my mind when I noticed these little blue ceramics in the background of an insta story of a friend of mine (shout out to 
@hairbyt.j
she'll make your dream locks come true) T.J owns House no: 11, 36 & 42. 11 is Amsterdam's oldest liquor store/tasting room Proeflokaal Wynand Fockink. Located on Pijlsteeg 31 and built in 1689. And 36, is on Hippolytusbuurt 8 Delft built in 1690 and houses a sweet restaurant Le Mariage. 42, looks super trendy but we can't tell what it is when we search for it on Google Maps. Scroll down for street view images of the blue little KLM Dutch Houses.  
Bonus: For all the architecture nerds out there, here are some fun facts about Dutch Canal Architecture. 
1. Narrow buildings because of property tax was based on the facade size.
2. Houses were built in a row so they could all support and keep each other upright.
3. All the buildings were designed to lean forward so furniture or raw material could be lifted up and hoisted through a window (that's what those rod extensions on the facade are for).